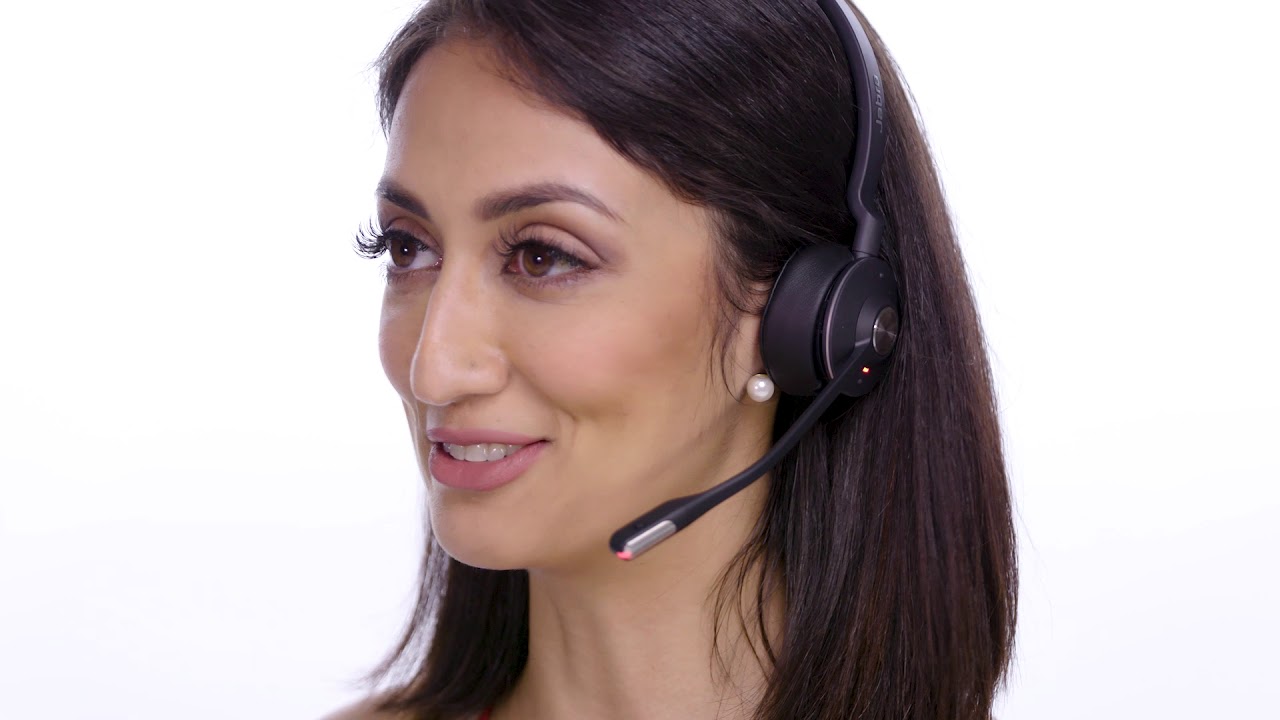 If you have a today's popular VoIP deskphones from Polycom, Cisco, Avaya, Yealink, finding the right office VoIP headset is one of the most important things that every professional businessman will need. Choosing the right headsets for desk phones that provide clear audio and can be used on the go is extremely important if you want to maintain high standards and look professional. Choosing a headset for desk phone might seem like a straightforward process but seeing the number of choices available it can easily become a daunting task. To help you find the best wired and wireless headsets for business, we've reviewed the top models for you so that you can choose the one that fits your needs.
Jabra Engage 75 Mono Wireless Headset System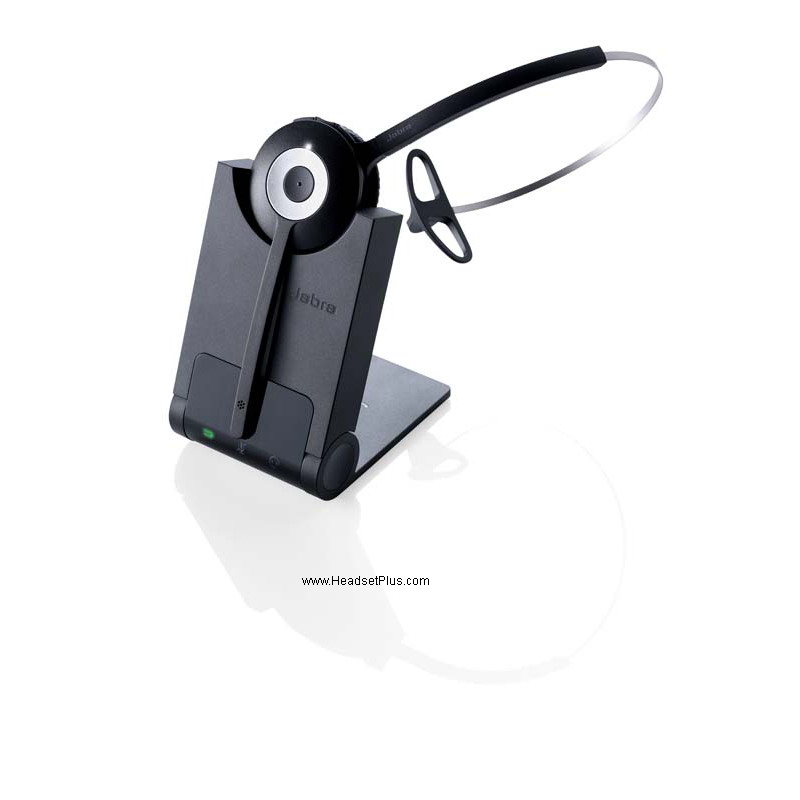 When it comes to audio quality and long-range connectivity, the Jabra Engage 75 Wireless Headset System is second to none. The Jabra Engage 75 offers high quality and clear audio sound and can connect with your 2 smartphone, desk phone, and 2 soft phone (5 devices total) as well as letting you seamlessly switch between each three using the stylish touchscreen display. When the battery is fully charged, it has 13 hours of talk time. In additional, it's also softp hone certified for Microsoft Skype for Business. It offers just the right balance of practicality and functions while making sure to look stylish to add more appeal to your office environment.
Using the reliable DECT technology, you can stay connected with the headset up to 490 feet so that you don't have to worry about any untimely disconnections or static when moving around the office. AS long as battery life is concerned, the Jabra Engage 75 offers a stunning 10 hours of talk time along with static free audio making it one of the top office headsets in 2023. Click HERE for more details and to order
Jabra Pro 920 Mono Wireless Headset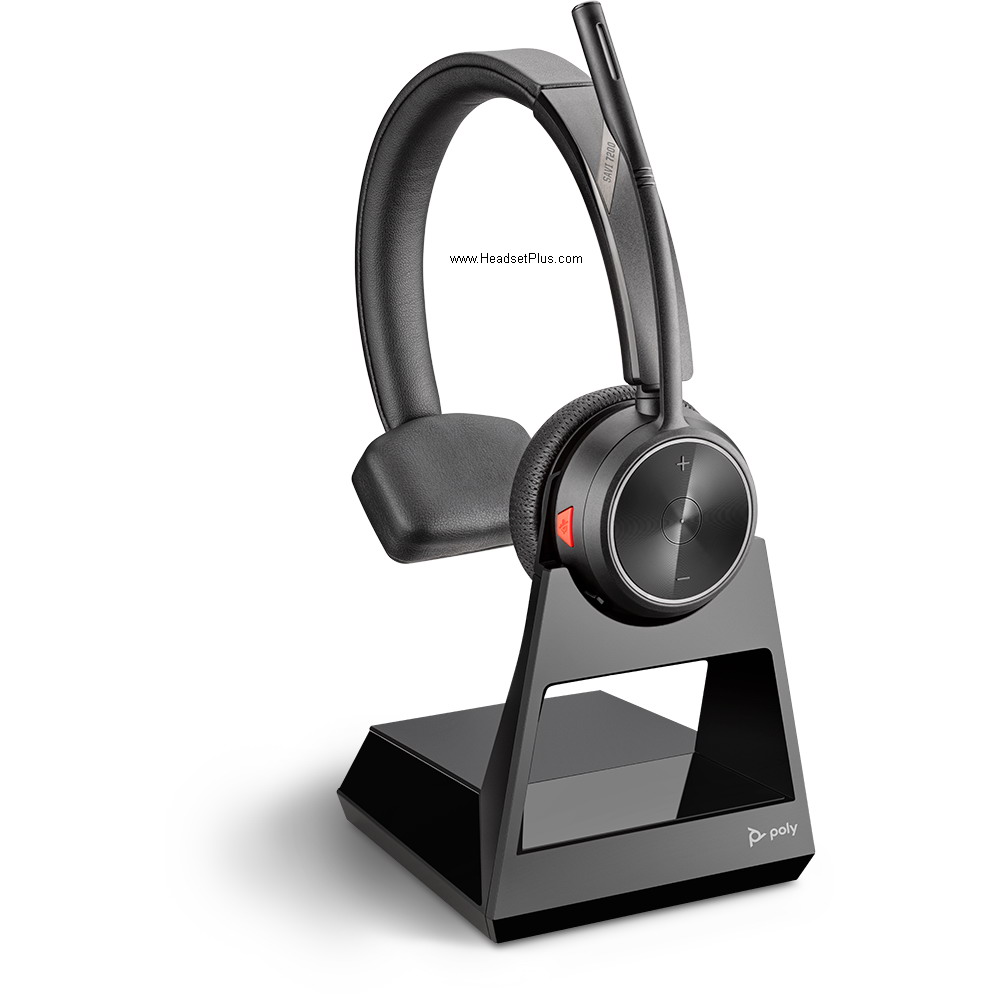 The Jabra Pro 920 is a workhorse and a more affordable alternative to the Jabra Engage 75 but in some cases can be more practical to use than the former. It offers crystal clear audio which is something all headsets from the Jabra Pro series have in common but what makes it standout is the ergonomic design and noise canceling features. It doesn't offer as much long-range connectivity as the Jabra Pro 9470 but still manages to provide an impressive 375 feet without there being any distortions or static in the sound quality.
It has a Headband and optional ear hook and Neckband so that you can use it the way you want. The noise canceling background removes any background noises so that no one can hear what's going on in your surroundings. Overall, the Jabra Pro 920 offers great value at a great price. Click HERE for more details and to order
Poly (Plantronics) Savi 7210 Office Wireless Headset, Mono Style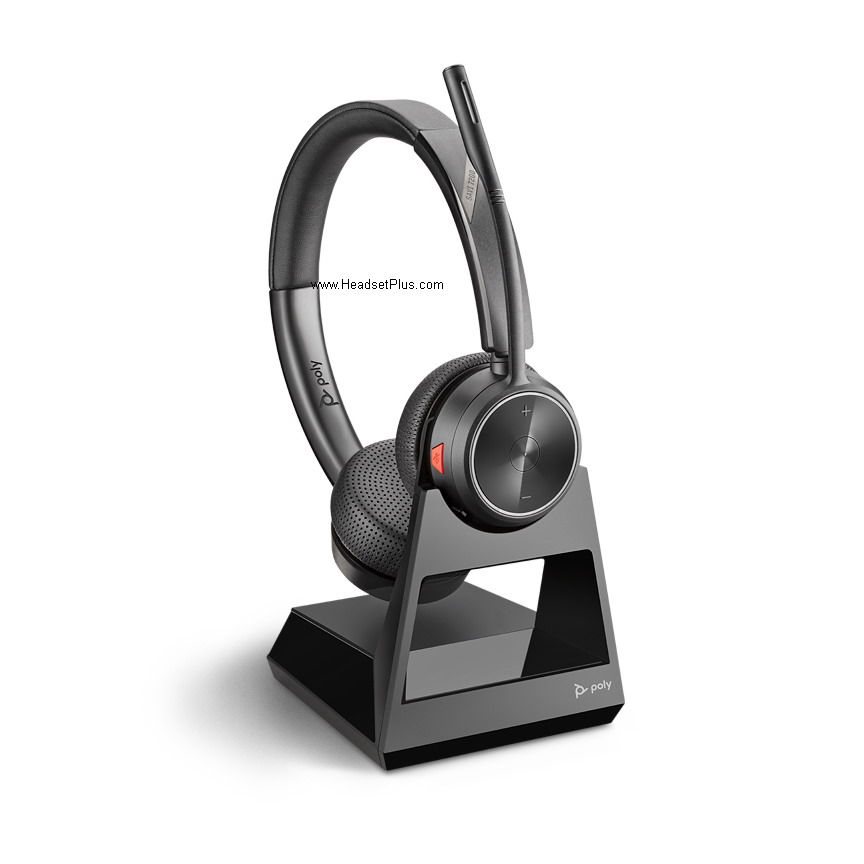 If you're looking for headsets that is a long range comfortable wireless headset for the office desk phone then the Plantronics Savi 7210 is definitely worth your time. This is a DECT 6.0 wireless headset that can reach up to 400ft line of sight. When the battery is charged, you have up to 12 hours of talk time (50 hours of standby battery time). It has a well padded headband for all day use and it's very light weight (only 104g). In addition, it's equipped with a noise canceling microphone to filter out background noise when your co-workers is loud and noisy. Go HERE to order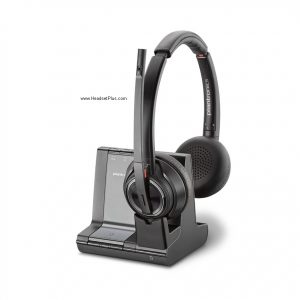 If you're in the "super noisy" office environment, you can go with the dual ear model The Poly Savi 7220 Office. It has double stereo speakers that can block out office noise so you can concentrate on your work or task at hand. It's little heavier than the mono version at 138g. Otherwise it has all the same specs as the Savi 7210 mentioned above. Go HERE to order
The Poly Savi 7200 office series comes with one year warranty and lifetime technical support when purchased from HeadsetPlus.com
Plantronics Savi 8220 Wireless Headset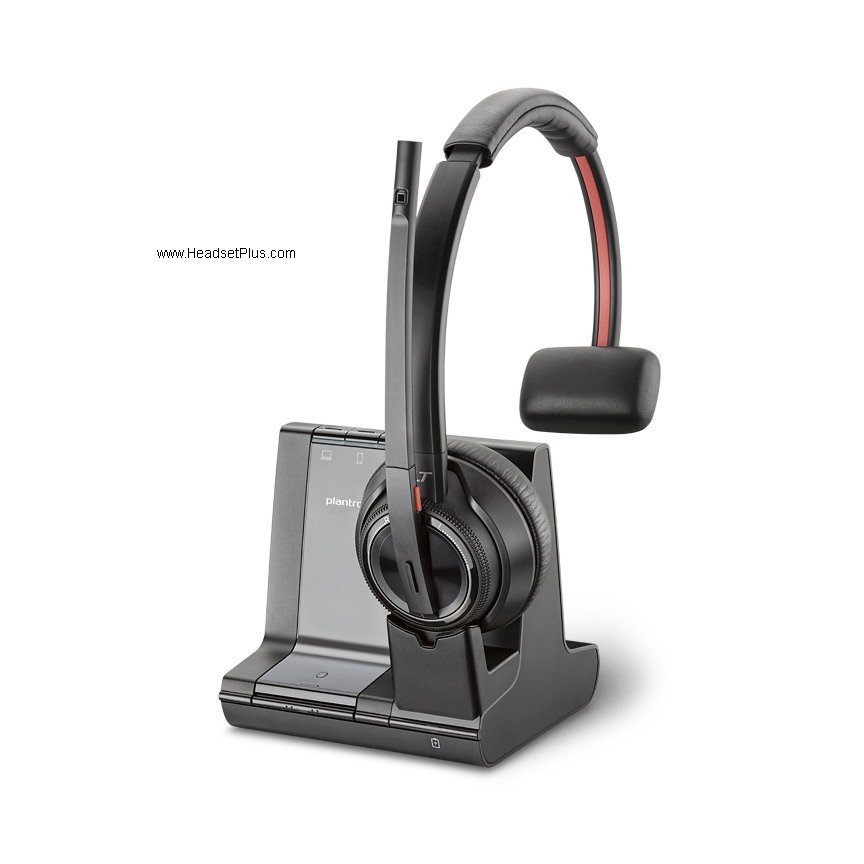 Plantronics has a reputation for providing high quality and state of the art office headset and the Plantronics Savi 8220 is no exception. This wireless headset offers all the features you'll need in a high-quality headset. What makes it stand out is the fact that it can connect to a computer and any other device at the same time making it a must have for anyone that likes to multitask. With HD stereo Hi-Fi sound quality, active noise cancellation for the super noisy office, these are perfect for answering calls on your desk phone and enjoying multimedia on the computer as well as answering any mobile phone calls via Bluetooth. Super long range, up to 590 feet! 13 hours of talk time. This headset has it all! Click HERE for more details and to place an order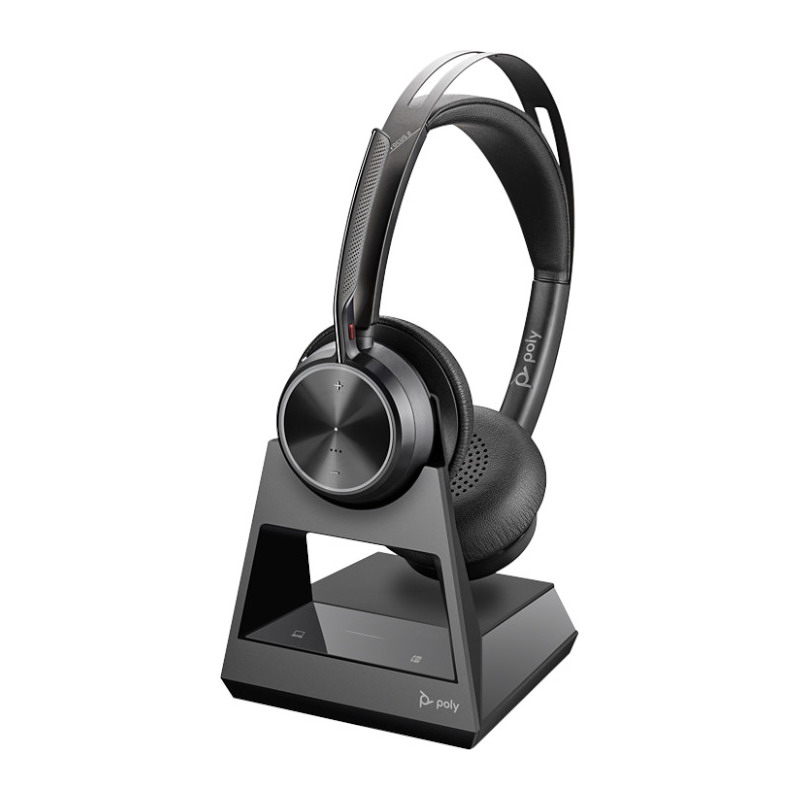 If you don't need the "stereo" version, there is also available the mono single ear version Plantronics Savi 8210. This is an option when you need to hear others around you or if your office is not so noisy.
Both version of the Plantronics savi 8200 series office has one year warranty and lifetime technical support when purchased from HeadsetPlus.com
Poly Voyager Focus 2 Office USB-A Bluetooth Stereo Headset< staff pick>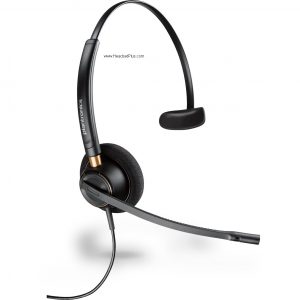 Poly offers the newest Focus 2 Office, as an alternative for a loud environment as it comes with the newest Digital Hybrid Active Noise Cancelation technology with 3 different levels, letting you choose how much ANC you want at the moment. Bluetooth Class 1 headset that allows you to use with your desk phone, computer and smart phone and let you take it with you out of the office and keep using it with your smart phone. Acoustic Fence technology found in the microphone boom that helps to have a better sound quality on the users voice. Rotate microphone boom up to mute, down to unmute and can be worn on either side. Go HERE to order
Plantronics HW510 EncorePro 510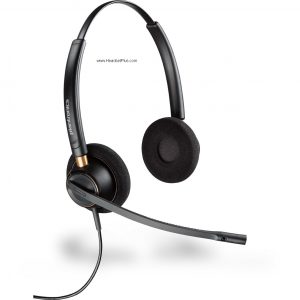 One look at the Plantronics HW510 EncorePro 510 and you can tell that this headphone was made to be used in call centers. With a single ear over-the-head design, these are comfortable to wear and provide high quality and crystal clear audio while the mic provides noise canceling input making his the best headset for any call centers that want to give their callers the best experience. This headset is made to last, thanks to the Laser welded construction and metal joints, these headphones will last you a long time while delivering unmatched performance. Go here to order
Plantronics HW520 EncorePro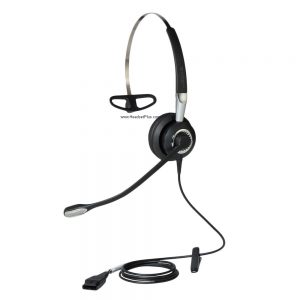 A comfortable design and affordable price, this is the headset that every office worker needs to have. This headset was made with the typical office worker in mind. If you're just looking for a high-quality headset that can help you take calls and provide clear audio and reliable long lasting use, then the Plantronics HW520 EncorePro is definitely worth your time.
Unlike many other headsets on this list, the Plantronics HW520 EncorePro doesn't have any extravagant features and offers the minimal functions of a headset whereas the heavy duty construction provides long-lasting use. Thanks to the adjustable fit you can wear it the way you want whereas the SoundGuard technology prevents any noise spikes and listening fatigue for hours of use. Go HERE for more details
Jabra Biz 2400 II Mono Direct Connect 3-in-1 UNC Headset
The Jabra Biz 2400 II is superficially designed to be used with desk phones and offers unrivaled performance and comfort. It can be worn in 3 different styles and comes with ear hook, behind the neckband along with an over-the-head headband.
This Jabra Biz 2400 is 40% lighter than other headsets in this category and provides ultra-noise cancellation to make sure the only thing the receiver hears is your voice. The 360-degree swiveling boom mic can be adjusted in any position you want whereas the larger leatherette ear cushions make sure that you don't feel uncomfortable even after hours of use. These are ideal for any work environment and call centers.