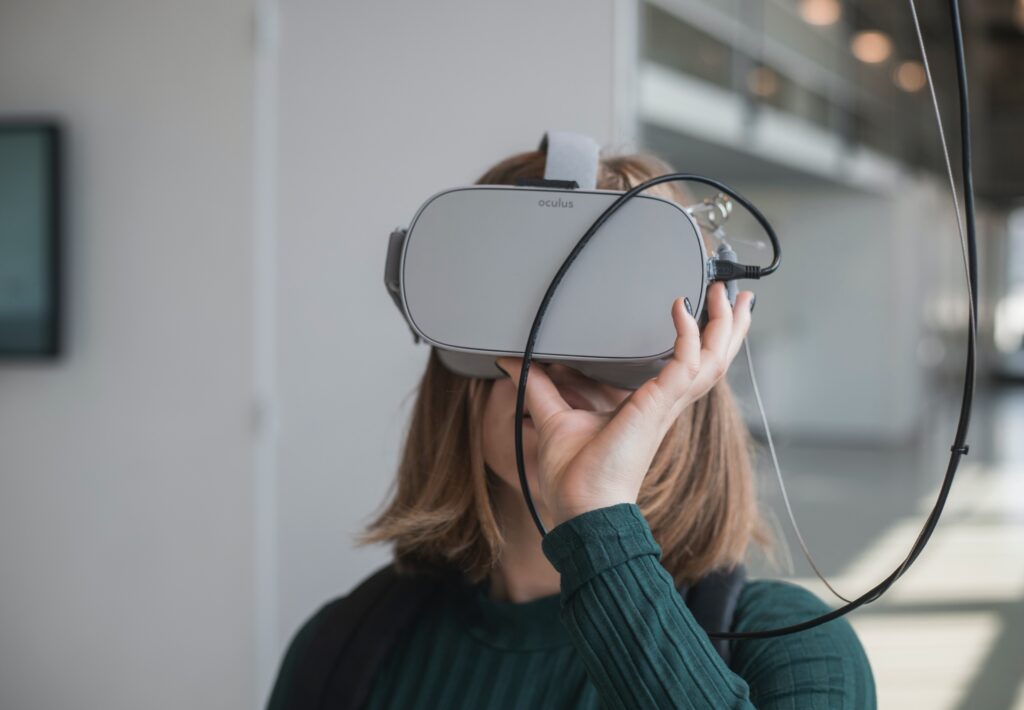 VR has taken the world by storm and has changed the way that games are played. They produce 360-degree games and provide an immersive gaming experience for every user. If you weren't completely lost in the gaming world before, you definitely will be now.
Unfortunately, not every VR headset will work with Xbox One or its newer successor, Xbox Series X. In fact, they don't actually support VR headsets at all. Despite Microsoft owning its own VR platform, they've told VGC that this won't change anytime soon. But, just because it's not officially supported, it doesn't necessarily mean that you can't connect a VR headset with the Xbox One or Xbox Series X.
Follow on to find out everything you need to know about VR headsets and their compatibility with the Xbox One and Xbox Series X.
Why Isn't VR Supported on Xbox One or Xbox Series X?
Your first question is probably why? If Microsoft already has its own VR platform, surely the next logical step would to be include this in the game consoles? Well, it looks like this wasn't the case.
Essentially, Microsoft believed that it would be too expensive to manufacture new VR headsets that would be compatible with the Xbox One or Xbox Series X. Not only would it increase prices for them, but also their customers.
So, don't get your hopes up, because they don't seem to be changing their minds any time soon!
Can You Connect A VR Headset To An Xbox One or Xbox Series X?
Yes. While they're not officially supported by Microsoft, there's still a way that you can use a VR headset with your Xbox One or Xbox Series X. Although, you should note that it doesn't work as it normally should.
As Microsoft doesn't support VR headsets, you won't actually get the 360-degree experience. Instead of being in an immersive world that VR offers, you essentially can just use it as an additional screen.
You shouldn't necessarily buy one in hopes that it'll give you the VR experience on your Xbox. However, if you already have one, you can connect it.
Using any of the most popular VR headsets, (we'll go into this in further detail later on), you can. It's just a case of having the right equipment and software to do so.
You'll need:
A Windows 10 PC
A VR Headset
An HDMI cable (if you're using a PlayStation VR headset)
The Xbox streaming app
To be able to use any VR headset with your Xbox One or Xbox Series X, it'll need to be compatible with the Xbox streaming app.
Which Headsets Are Compatible With Xbox One and Xbox Series X?
You can use the following VR headsets with Xbox One and Xbox Series X. As already stated, they can't be used in the same way as if the Xbox supported VR, but an additional screen could still benefit your gaming experience.
The following VR headset listed below is only compatible with Xbox One, and therefore would not be suitable for Xbox Series X.
GenBasicQuad HD
This GenBasic Quad HD VR headset is an amazing option to pair with your Xbox One. It's much more affordable than other VR headsets, coming in at less than $200. If you're on a budget, but still want a good gaming experience, then this might be the right VR headset for you.
It's compatible with either your PC or Xbox One, so you can enjoy its benefits in a variety of different ways. It's equipped with a Bluetooth controller that you can use with your PC. It offers different modes, including 110-degree and 360-degree Field of View (FOV for short).
Plus, the battery life is absolutely incredible – it's so powerful that you don't have to re-charge it too often. Therefore, you can have a completely uninterrupted gaming experience. That said, there's a chance that it could lag a little. Due to the HDMI input, this affects the overall quality of the game.
The following VR headsets listed below are compatible with both Xbox One and Xbox Series X.
Oculus Quest 2
One of the most popular VR headsets out there to this day is Oculus. They have a range of different models and each offers a slightly different gaming experience.
These are perhaps the most compatible VR headset with Xbox. Each VR headset comes with an Xbox One controller and an Xbox wireless adaptor. Depending on the version that you get, it may come with a cable instead of a wireless adaptor.
The Oculus Quest 2 is actually considered to be the best VR headset for gaming right now. So let's dig a little deeper into its features and figure out why it's such a loved headset, and whether it's actually worth it.
Firstly, it's a standalone headset, so you can use it without any other additional devices. But, if you want to, you can always hook it up to your PC, and use it with that. However you decide to use it, the option is yours, and they're both incredible ways to experience VR.
It's reasonably priced, meaning that it's more accessible than a lot of other headsets, and provides an incredible gaming experience.
One of the key limitations of the Oculus Quest 2 is its battery life – it only lasts between 2 and 3 hours before you have to recharge. So, if you're normally one to spend hours and hours gaming without a break, then it might not be ideal for you.
Compared to some of its other predecessors, the games and software run a lot better. The sharing capabilities have massively expanded, and there's a higher resolution of the display. What more could you want right?
To set up your Oculus VR headset with your Xbox, you'll need to:
Turn on your PC
Install the Oculus app
Run the Oculus app
Select 'Devices' on the left-hand side menu
Select 'Rift and Touch' and then 'Pair Device'
Select 'Pair Gamepad'
Add your Xbox controller
Next, you'll probably want to know how you stream Oculus to your Xbox. This isn't too hard to do, just follow these steps:
Start your Xbox
On settings, enable game streaming
Connect your Xbox to PC
Go to the Oculus store and download the Xbox streaming app on your PC
Connect the VR headset to your Xbox
Begin Xbox streaming
Now, your game will stream through your headset.
Oculus Rift S
Another Oculus VR headset here – they're a very reputable brand that you can place your trust in!
One of the key differences in the versions and models is the price. Of course, there are additional features that come along with these, but it'll depend on your budget to see which one's best for you.
The Oculus Rift S has actually been officially discontinued from Oculus, although you can still purchase it online via Amazon or other sites. That being said, any equipment might be a little harder to come by if anything eventually goes wrong, so you might want to stick to the Oculus Quest 2.
However, if you're willing to take the risk, this is what the Oculus Rift S has to offer. It's not designed as a standalone headset, unlike the Oculus Quest 2, so you'll have to ensure that it's compatible with your PC.
A majority of headsets will use HDMI, however, the Oculus Rift S requires you to connect to your PC via DisplayPort. This, therefore, means that it might not be compatible with some gaming laptops.
Although, the graphics are technically better because of this. The graphics wouldn't be as good for a standalone headset.
Both the Quest 2 and Rift S have 6DOF motion tracking, a system that follows your exact positioning and direction. There are 3 different measurements for a) positioning (left/right, forward/backward, and up/down) and b) orientation (yaw, roll, and pitch)
They both use very similar controllers, and consequently, provide a similar gaming experience.
This completely changes the VR experience, compared to VR headsets that only have 3DOF motion tracking. This is because, with 3DOF, you're only able to point, whereas 6DOF allows you to reach out, move and manipulate your surroundings.
It's a great VR headset and compatible with Xbox One and Xbox Series X.
Microsoft HoloLens 2
Another headset that pairs well with the Xbox One or Xbox Series X is the Microsoft HoloLens 2. While most other headsets are attached to your head, the Microsoft HoloLens 2 is essentially a display screen that hangs in front of you. Therefore, it makes it much more comfortable to wear while you're gaming.
It's a lot more freeing than other devices. It doesn't use any cables so you can move around the room as you wish. You can control its 2 built-in speakers using your body, including your hands, eyes, and voice.
You can either play your favorite game or watch your favorite movie – it's extremely versatile! Some gamers have, however, claimed that the screen is perhaps a little too small. You'll also have to note that this is extremely pricey.
It's likely to be out of budget for quite a few people, so it's important to decide whether it's worth it based on your personal preferences.
HTC Vive Pro Virtual Reality System
The HTC Vive Pro is another incredible VR headset for Xbox gamers. Its ergonomic design has been created for absolute comfort and the best gaming experience possible. It'll mold to your head shape and adjust as you desire.
One of the best things about this VR headset is that it supports wireless connectivity. Therefore, you can easily play your games, without any hassle of cables, and means you can move around a lot more freely.
If you do decide for whatever reason that you want to use the wired connectivity, don't worry – you can also do that too! Whichever way you decide to connect, the HTC Vive Pro VR headset is incredibly convenient. Take it wherever you want and enjoy it!
So, what are the pros of this VR headset? Well, it supports most gaming consoles, including the Xbox One and Xbox Series X, it offers an extremely high resolution in comparison to some other VR headsets, it's super comfortable to wear, and you can easily adjust the features as required.
The major con of this VR headset? It essentially requires you to have a gaming PC, which not all gamers will have.
Conclusion
Unfortunately, using VR headsets with your Xbox One or Xbox Series X isn't as easy as it could be. If Microsoft made the consoles to support VR in the first place, you wouldn't have to be as particular about which VR headset you buy. Rather than just being able to simply connect, you have to find an alternative way around it.
But we've sourced that for you. Despite making it a little more complicated than it should've been, actually connecting your VR headset to your Xbox One or Xbox Series X isn't that difficult.
The main thing to remember is that if your VR headset is compatible with the Xbox streaming app, then it's good for you to use. By following the steps as outlined, you should be able to easily connect your VR headset to your Xbox One or Xbox Series X.
As you can see from some of the VR headsets above, you don't actually necessarily need a games console to play them on. Although, it does mean that you can play your ordinary Xbox games that you play on your console on VR.
So, while it isn't particularly necessary, you might want to for that extra gaming experience. In most cases, VR headsets can be used as a standalone console or through your PC, so overall it's up to you to dictate how you play.
Hopefully, you've learned everything that you need to know regarding VR headsets and connecting them to your Xbox One or Xbox Series X. So, get lost in the magical experience and enjoy!
Can You Lay the PS5 On Its Side? Debunking Console Placement Myths
How to Update Turtle Beach Stealth 600 or Stealth 700 Headsets
Does GameStop Buy Oculus Quest 2? A Comprehensive Guide to Trade-Ins
How to Fix Oculus Quest 2 Controller Drift: Step-by-Step Guide
How Long Does It Take to Charge a Meta Quest 2: Duration, Insights, and Best Practices