If you want to sample virtual reality (VR) without spending loads of cash, a VR headset built for smartphones is the best option. They're affordable, equipped with a slot to cradle your phone, and support many VR apps and games. Our current pick for the best VR headset for the iPhone is the family-friendly Merge VR. We also list five additional options that may be a better starting point for your mobile VR journey.
Before you embark, be sure to pay attention to device compatibility. Some models only support specific iPhone sizes, while others may require a sensor not included in your phone. To determine if a specific headset supports your device, try VR Test Ninja.
Finally, many headsets listed below rely on Google Cardboard-based apps, ditching proprietary VR-specific app shops. The good news here is that you won't spend gobs of money to feed your VR appetite.
Best VR headsets for the iPhone
Merge VR
VR Wear VR Headset
Bnext VR Headset
Destek V5 VR Headset
VR Empire VR Headset
Atlasonix VR Headset
Merge VR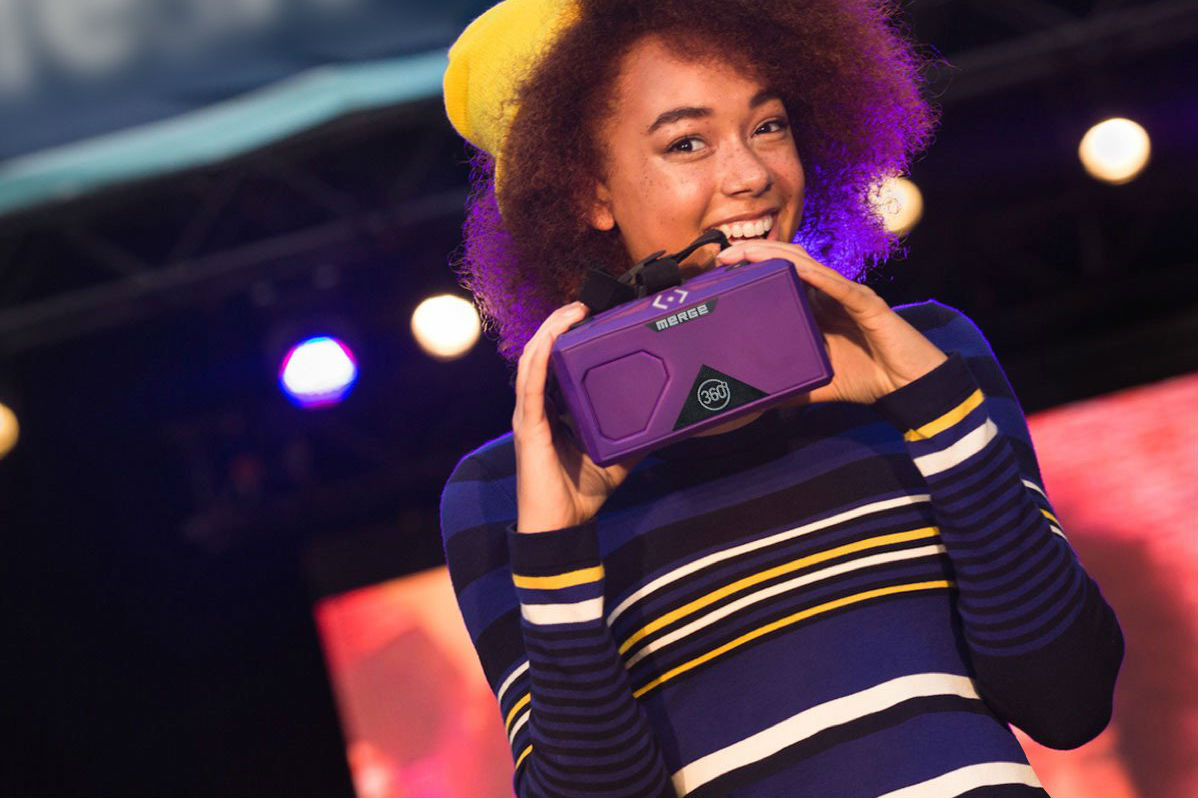 Merge VR is our top choice for iPhone-based VR experiences. It's easy to use and offers clever features that support many different VR experiences, especially for families and kids.
The materials consist of a flexible-but-durable foam substance that is both lightweight and resistant to bumps and drops. This friendly design approach influences the Merge's compatibility, with a generous phone slot that holds most iOS and Android smartphones.
You can adjust the lens-eye distance by sliding two spring-based buttons mounted on top. These same two buttons replace hand controls so you can interact with the experience by pressing down on these buttons. This allows you to hold the headset like binoculars and enjoy dual-controller experiences that so many phone apps require.
Curious about Merge VR's compatible apps? There's no app-based store. Instead, Merge provides a dedicated website, Merge Miniverse, that lists all compatible apps made available on Apple's App Store. Categories include classroom-friendly education apps, short games, YouTube 360 videos, and other options. Most are free or only a couple of bucks, so your risks are fairly low-cost. Miniverse is a strong system that becomes even more involved when you sign up for the newsletter.
The rest
VR Wear VR Headset
VR Wear's family-friendly headset fits screen sizes up to 6.5 inches, so it's compatible with even the largest iPhones. Each lens can be adjusted in four different ways, including focus and interpupillary distance to get just the right fit for the 105-degree field of vision. We like to have plenty of adjustment options like this, because they are a great way to find settings that reduce dizziness and motion sickness.
The thoughtful VR Wear headset design also makes a hole for an earbud cable to fit through, a separate vent so the goggles don't fog up, and a well-padded eye rest (which may be too big for particularly young users). But our favorite feature is probably the two faceplate stickers that this bundle comes with, allowing you to customize the face of the headset to suit your personality. It's cute!
Bnext VR Headset
Bnext's headset offers a comfortable foam face brace that makes it one of the easiest headsets for kids or adults to wear and adjust as needed. It supports screen resolutions from HD to 4k, including 3D. The headset also lets you quickly adjust focal distance and object distance to help find the right setting that lets you enjoy videos without getting nauseous or confused. It's known as one of the better iPhone headsets for all types of VR experiences, including 360-degree turns and 180-degree turns for exploration and gaming.
One other thing to carefully note: The Bnext VR Headset only supports screen sizes up to 6.3 inches, which is a bit smaller than the largest iPhone models available today. Make sure that your iPhone is small enough to fit in the headset before you buy!
Destek V5 VR Headset
Moving up to a more premium offering, the fifth version of Destek's VR headset for mobile includes a Joy-Con-like one-handed Bluetooth controller. It ups the field of view from the previous model's 103 degrees to a wider 110 degrees. It also increases the supported phone size along with a wider pupillary distance. You can now remove the spongy face mask for cleaning too.
Desktek boasts that the lenses have anti-blue light and anti-reflective coatings. They're also aspheric, meaning they have a non-spherical surface to minimize distortion. Complementing these lenses is a pupil distance button so you can tune the headset to match your eyes. Even more, this headset supports most glasses.
The Destek V5 VR Headset includes an adjustable head strap to hold it in place, a plastic chassis, and a cradle for your phone. You'll find slots on each side supporting headphones and to dissipate heat. It weighs a mere 11.3 ounces and supports 5.5 to 6.5-inch phones. It doesn't offer a proprietary apps store but instead relies on experiences available on the App Store. Simply scan the QR on the lip to customize the experience.
VR Empire VR Headset
There's a lot that makes this headset worth buying. You can see up to 120 degrees, a very respectable field of view for one of these headsets. The included headphones also help enhance your sound experience without the need for additional accessories. Not only that, but the VR Empire VR Headset also uses a filter to limit blue light from your iPhone, which means your eyes can be much better protected for longer play.
You can use this headset even if you have the largest standard iPhone model available since it can fit up to 6.5-inch screens and 6.3-inch lengths. If you are truly interested in exploring VR, check out the VR Empire VR Headset.
Atlasonix VR Glasses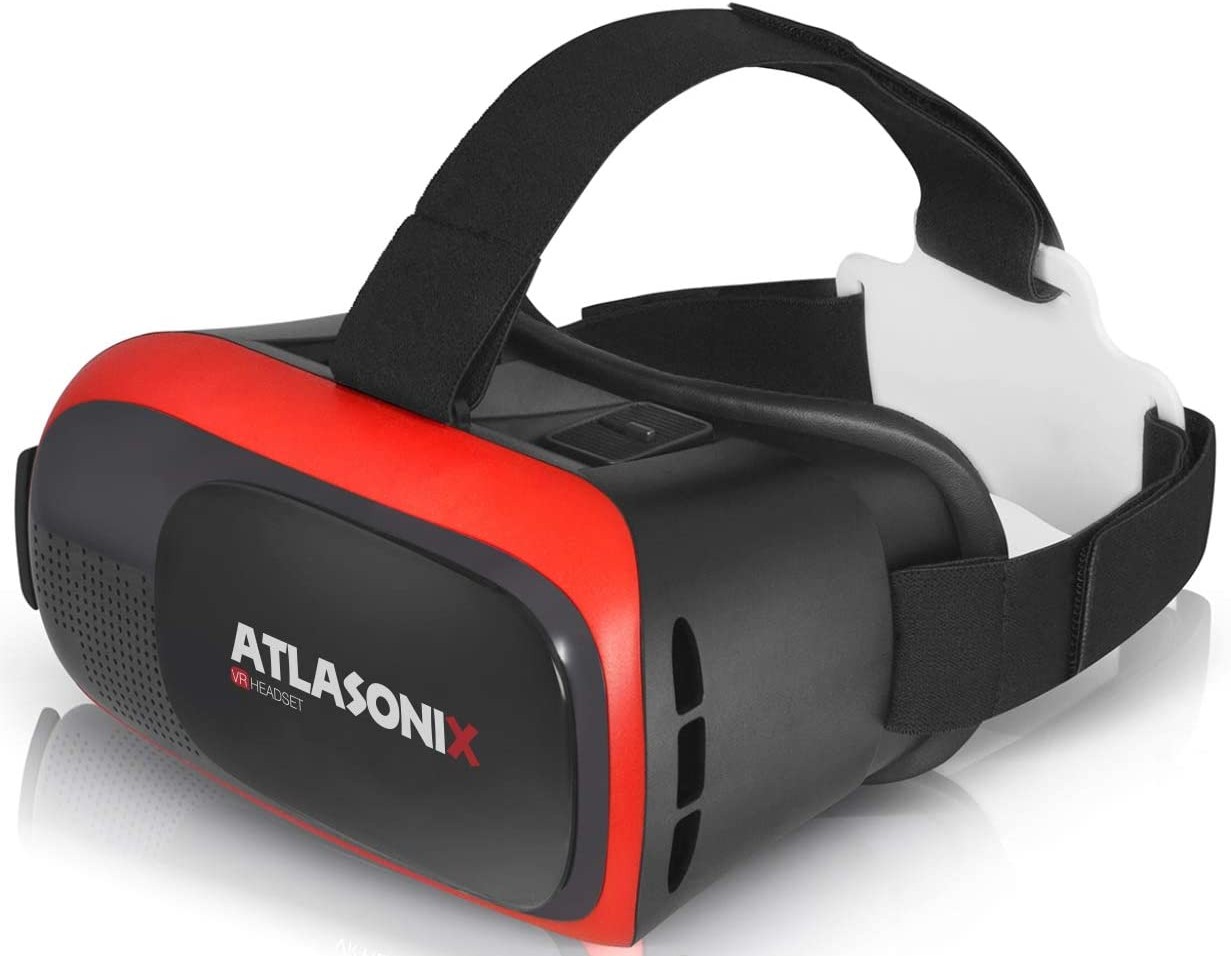 This versatile headset from Atlasonix will fit any phones up to a 6.2-inch screen, and allows users to adjust both focal distance and OD for field of view, with thorough instructions that help teach how everything works together. The frame and foam inset are both very durable while offering thorough eye protection, a strong choice for weathering the bumps and drops that active VR users can sometimes encounter. It works well with the latest iPhone models, and — depending on the type – can accommodate many users with glasses.
However, the Atlasonix headset is overall a simple device, and works best for newcomers. There are no extra features like controllers or earphones, just the high-quality headpiece at a reasonable cost.
Editors' Recommendations
9 best desktop computers of 2023: tested and reviewed
The best tablets in 2023: our 10 favorite ones to buy
There's a bunch of bad news about Apple's Vision Pro headset
Vision Pro 2: everything we expect from the future of Apple's headsets
The Vision Pro SDK has arrived. Here's what it's revealed so far