Are you having trouble connecting your recently purchased Oculus Quest 2 headset to the Oculus app on your phone? Don't worry, you're not alone. Many users have encountered this issue, but there are several methods you can try to fix the connection. In this article, we'll guide you through the troubleshooting process step by step.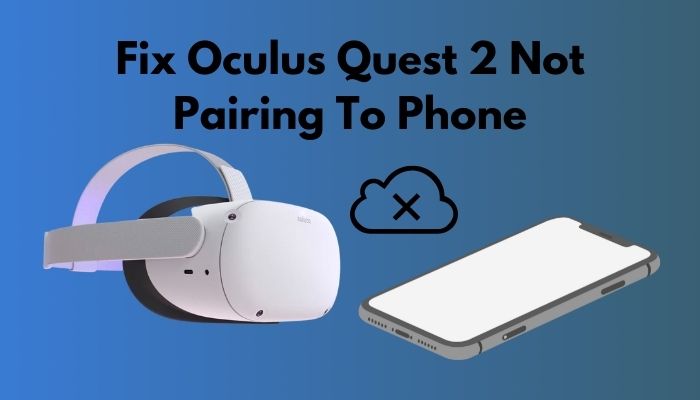 What Causes Oculus Quest 2 Pairing Issues With Phone?
Before diving into the solutions, let's explore the reasons behind the pairing problem. There are several factors that can contribute to this issue, including:
Bluetooth and location service being disabled
Connected to a secondary Facebook account
Buggy firmware
Outdated Oculus application
Incorrect pairing code
Low WiFi signal and slow speed
Corrupted data on the Oculus app
Understanding the root cause of the problem will help you resolve it more efficiently. Now, let's move on to the solutions.
How to Fix Oculus Quest 2 Not Pairing to Phone
Here are some effective methods you can try to fix the pairing issue between your Oculus Quest 2 headset and phone:
1. Restart Both Devices
Sometimes a simple reboot can clear temporary cache files and resolve the problem. Press and hold the power button on both your phone and Oculus Quest 2 headset, then select "Restart" or power off the devices and manually power them on again.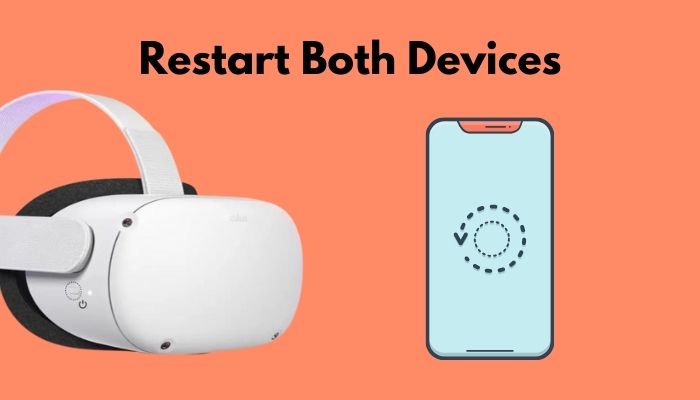 2. Ensure that Bluetooth and Location Services Are Enabled
Check if Bluetooth and location services are enabled on your phone. Make sure you have granted the necessary permissions. This step is often overlooked but crucial for successful pairing.
3. Connect Both Devices to the Same Wi-Fi Network
Ensure that both your phone and Oculus Quest 2 headset are connected to the same stable Wi-Fi network. You can perform a speed test to check the network quality and move the devices closer to the router to minimize interference.
4. Connect to the Same Account
Make sure you are using the main Facebook account when pairing your Oculus Quest 2 headset with your phone. Using a secondary account can cause compatibility issues.
5. Clear Oculus App Data
If the Oculus app has bugs or corrupted data, clearing the app data can help. Follow these steps to clear the Oculus app data on your phone:
Android:
Launch the Settings app on your mobile phone.
Tap the Apps option.
Go to Manage Apps.
Search for Meta Quest and tap on it.
Tap on Clear Data at the bottom of the screen and confirm.
iOS:
Navigate to Settings.
Click on General.
Go to iPhone Storage.
Find Meta Quest.
Tap on Offload App.
After clearing the cache files, launch the app and check if the issue persists.
6. Reinstall or Update Oculus App
If clearing the app data didn't work, make sure you are using the latest version of the Oculus app. Check for updates in the App Store or Play Store. If you already have the latest version, uninstall and reinstall the app. After reinstalling, pair both devices again.
7. Restart Your Router
An unstable network connection can hinder the pairing process. Try restarting your router to fix this issue. Restarting the router can help resolve WiFi or internet connectivity issues.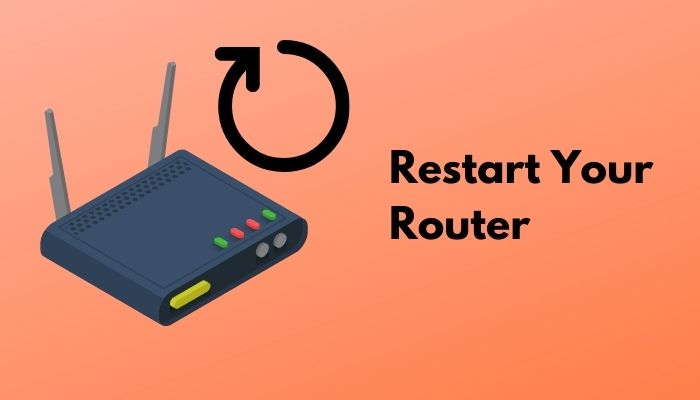 8. Connect to a Different Wi-Fi Network
If restarting the router doesn't work, try connecting both your phone and headset to a different Wi-Fi network. This can help rule out any issues with the current network connection.
9. Pair With a Different Phone
Pairing your Oculus Quest 2 headset with a different phone can help determine if the issue is specific to your smartphone. Make sure to use the same Facebook account to log in to the Meta Quest app on the other device.
10. Factory Reset Oculus Quest 2
If none of the above methods work, you can perform a factory reset on your Oculus Quest 2 headset. Keep in mind that this will erase all data, so make sure to back up any important information. Follow these steps to factory reset your headset:
Ensure your Quest headset is fully charged.
Turn off the Quest 2 by holding the power button for 2 seconds and then releasing it.
Hold down the power and volume down button together until you see the Boot Menu.
Navigate to Factory Reset option using the volume buttons. Press the power button to select.
Navigate to Yes using the volume button and press the power button to confirm.
After the reset, you will need to go through the initial setup process again.
How to Pair Your Oculus VR to the Oculus App on Your Phone
To pair your Oculus headset with your phone, follow these steps:
Install the official Oculus app from the Play Store or App Store.
Sign in to the app using your Facebook account.
Ensure that your Oculus headset has sufficient charge and enable Bluetooth on your headset.
Connect both your phone and the Meta Quest 2 to the same Wi-Fi network.
Move your phone and Oculus Quest 2 closer together, then launch the Meta Quest app on your phone.
Tap on the Devices option and select your Oculus Quest 2 headset. The pairing process should be completed automatically.
If the pairing doesn't happen automatically, you may be asked to enter a pairing code. You can find this code in the bottom right corner of the Oculus Quest 2 display.
FAQ
Why can't you cast your Oculus Quest 2 on your phone?
You may not be able to cast your Oculus Quest 2 to your phone due to an unstable connection or the headset and phone being on different networks.
How to get phone notifications on Oculus?
To receive phone notifications on your Oculus headset, pair the devices and ensure that you have enabled notification access for the Oculus app in the Headset settings.
Can you use Oculus without Facebook?
No, currently you need a Facebook account to use the Oculus app. However, alternative sign-in options are being developed.
How to find Facebook friends on Oculus 2?
To find Facebook friends on Oculus 2, open the universal menu using your controller, select the People option, and search for your friend using their username or name.
Final Thoughts
Troubleshooting pairing issues between your Oculus Quest 2 headset and phone is relatively straightforward. Virtual reality headsets rarely have hardware issues, so you have a good chance of finding a working fix. We hope this article has been helpful, and remember, you can always rely on us when you encounter another problem.
For more information about NokiaMA Headset Design, visit NokiaMA Headset Design.