Has the microphone on your HyperX Cloud 2 headset stopped working? You're not alone. Many users have had the same problem occurring randomly-even the first time they use the headset.
This is incredibly frustrating; you bought the headset so you could talk to people on it, and now you can't! But don't worry; you haven't wasted your money. It can be fixed…
Fixes to try
Here are four fixes for you to try. You may not have to try them all. Just work your way down the list until you find the one that works for you.
Do some basic troubleshooting
Check your sound settings
Update the headset driver
Reset your operating system
Method 1: Do some basic troubleshooting
The mic on your HyperX Cloud 2 headset may be muted or not connected correctly. So it's worth checking the mute setting and the connection of your headset.
1) If you are using the USB switcher of your headset, check to make sure that the mute switch hasn't been activated.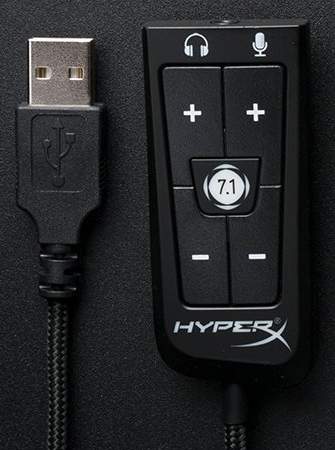 2) Check all the connectors to make sure they're all seated properly. If you can't see any problems with the connectors, try plugging the USB cable into another USB port or using the 3.5mm audio jack connection instead of USB.
Is the mic on your headset working now? If it is, great. But if it isn't, there are still a few things you can try…
Method 2: Check your sound settings
Your HyperX Cloud 2 mic may not be working because it's disabled or not set as the default device on your computer. To re-enable it and set it as the default device:
1) Hold down the Windows logo key and press the R key on your keyboard at the same time to bring up the Run dialog, then type "control" and press Enter.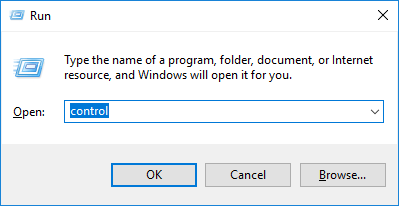 2) In Control Panel, select Large icons from the View by drop down menu.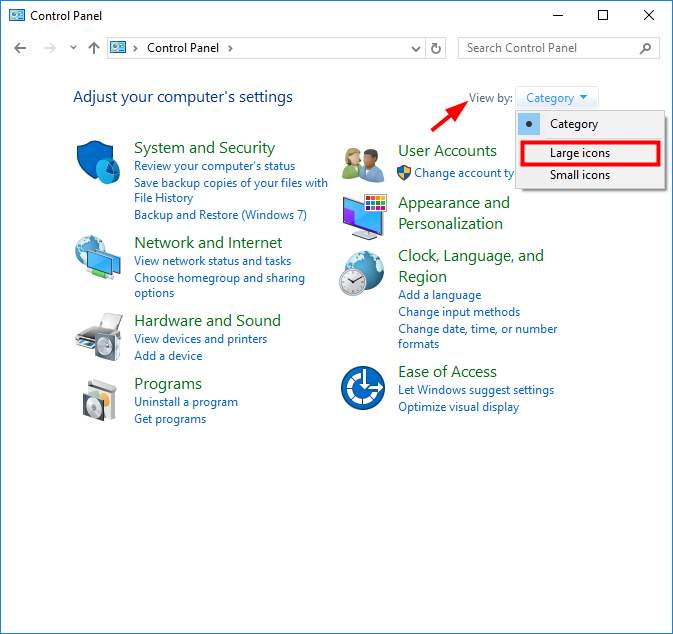 3) Select Sound.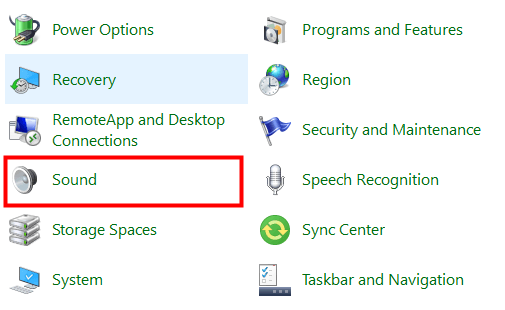 4) Select the Recording tab, then right click on any empty place inside the device list and tick Show Disabled Devices.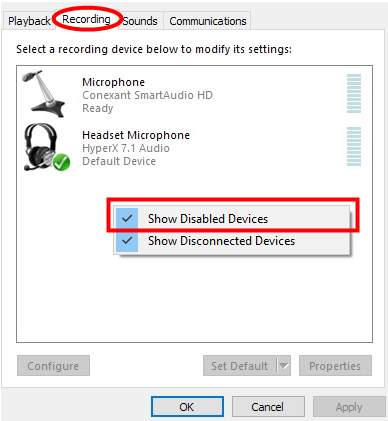 5) Right click the Headset Microphone and select Enable. Then right click it again and select Set as Default Device.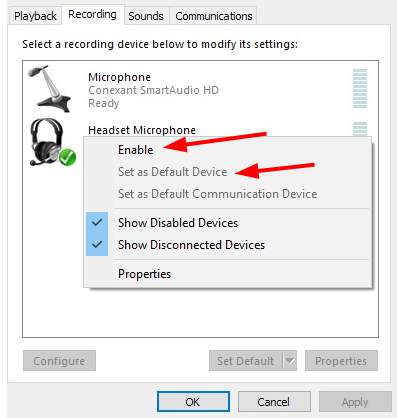 Now that the microphone of your headset is enabled and set as the default device, try it and see if it works. If it does, then you've solved the problem. But if not, there are two more fixes to try…
Method 3: Update the headset driver
The mic on your HyperX Cloud 2 headset won't work if you're using an incorrect or outdated driver. So you should update the driver to see if that fixes the issue.
You can update your driver manually or automatically. The manual process is time consuming, technical and risky, so we won't cover it here. Nor do we recommend it unless you have excellent computer knowledge.
Updating your driver automatically, on the other hand, is very easy. Simply install and run Driver Easy, and it will automatically find all the devices on your PC that need new drivers, and install them for you. Here's how to use it.
1) Download and install Driver Easy.
2) Run Driver Easy and click the Scan Now button. Driver Easy will scan your computer and detect any problem drivers.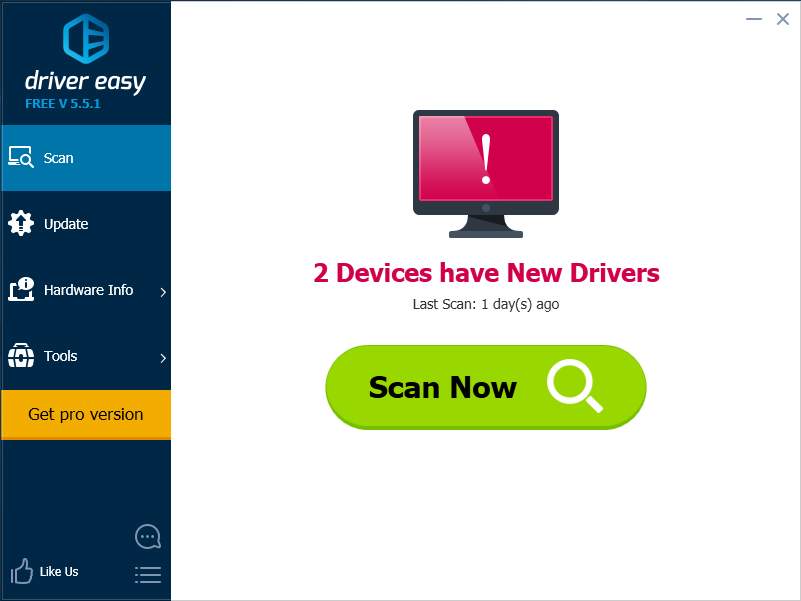 3) Click the Update button next to the headset to download the latest and correct driver for it.
You can also click the Update All button at the bottom right to automatically update all outdated or missing drivers on your computer. (This requires the Pro version — if you don't already have it, you'll be prompted to upgrade when you click Update All.)
Once you've updated the driver for your HyperX Cloud 2 headset, restart your computer. Then log in again and see if the microphone is working.
Hopefully it is. But if it still isn't working you may need to…
Method 4: Reset/reinstall Windows
Your operating system may have corrupted files or configurations that are preventing the mic on your HyperX Cloud 2 headset from working properly. The only way to resovle this problem is to reset / reinstall Windows.
First, back up critical files on your computer, then follow one of these procedures…
If you are using Windows 10, you can use this guide to reset your system.
If you are using an older version of Windows, you can use whatever installation media came with your computer to re-install your operating system.
Then, after you've reset or reinstalled Windows, reinstall your headset as per the supplied instructions.
If you've tried all these fixes, and the mic on your HyperX Cloud 2 headset still isn't working, it's probably a hardware issue. Contact Kingston's customer service for further assistance.