It is so annoying that your recording is interrupted by background noise. How to stop mic from picking up background noise? To get a clear audio recording, we recommend you wear headphones or use a dedicated noise-canceling microphone/headset. If the background noise persists, you can try the following several methods.
Preliminary Checks
How to reduce background noise on mic? The first and simplest thing you can do is to make sure your devices are installed properly and keep a quiet environment. To do so, you can follow the steps below.
Step 1. Make sure your headphones are properly plugged into the computer and microphone jack.
Step 2. Switch off any noisy items, including ceiling fans, televisions, music, and so forth. And then close your doors and windows.
Step 3. Make sure there are not any electrical cables across your audio cables like headphone wires. This is because the electromagnetic force around the cables may cause interference.
Step 4. Try using a different power socket to avoid the noise caused by electrical circuits.
Step 5. Speak into the microphone directly to see if you remove background noise from video.
How to Reduce Background Noise on Mic
If the background noise still appears after trying the above preliminary checks, don't worry. There are some other methods to fix it. Now, let's see how to remove background noise from audio.
Method 1. Enable the Noise Suppression Option in Windows 10
There is an integrated option called Sound Suppressions in Windows 10/7 to help you reduce microphone background noise. You can follow the steps below to enable the noise reduction option.
Step 1. Type control in the search box and select the Control Panel app from the best match.
Step 2. Change the View by type to Category, and then navigate to Hardware and Sound > Sound.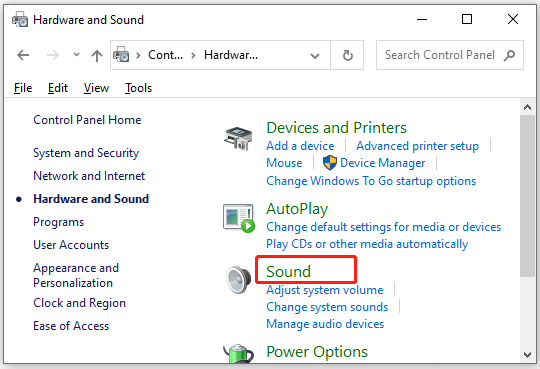 Step 3. Go to the Recording tab, and then right-click your microphone device and select Properties.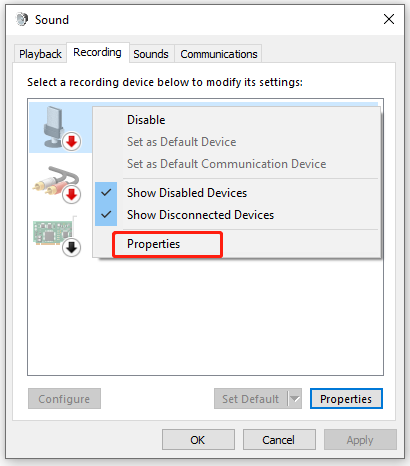 Step 4. Go to the Levels tab, and then lower the Microphone Boost level to +10dB and set your microphone volume to 100. This will make your mic easier to hear you.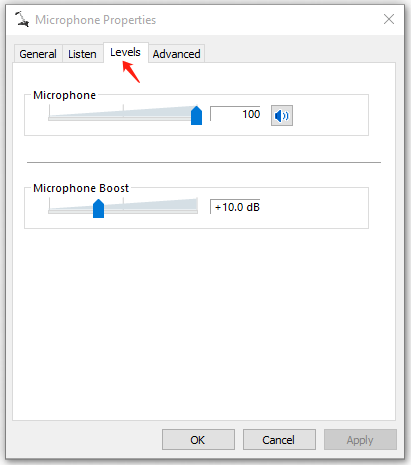 Step 5. Go to the Enhancements tab, and then tick the checkbox for Noise Suppression or Noise Cancellation if it is available and click on OK and Apply to save the changes. If you are not wearing headphones, you can also tick the Acoustic Echo Cancellation option that can help reduce echo caused by speakers.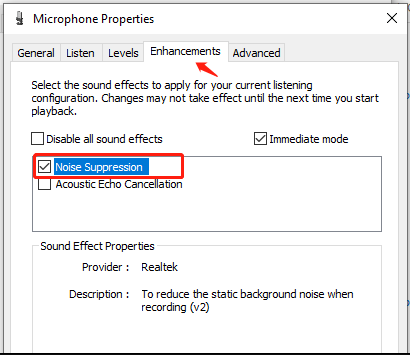 Now, you can record again and check if you remove background noise from audio.
Method 2. Use Noise Reduction Accessories
In addition to enabling the Sound Suppression, another effective way on how to stop mic from picking up background noise is to utilize some noise reduction accessories. There are several commonly used ones.
Mic preamplifier: It can help simplify the transition between your microphone and other devices.
Shock mounts: Placing your microphone to the shock mounts can reduce the noise caused by vibrations.
Power adaptors: This device can help reduce static noise especially when using multiple recording equipment.
Wind shield: Fit it over your mic's head to eliminate unwanted wind interface.
Method 3 Use the Noise Cancelling Software or Feature
There are some noise-canceling software and features to remove background noise from video. Here we summarize them as follows:
Krisp: It is a free online sound clear tool that can be used to remove background noise from audio while recording. With this AI-powered app, you can remove background noise and from meetings, leaving only a human voice.
Zoom: This tool has a built-in background noise suppression. To use it, you can open the Settings of Zoom and select Audio > Advanced. And then enable the Suppress Intermittent Background Noise and Echo cancellation features.
Discord: It also has a built-in noise suppression feature. To enable it, you can open Discord and navigate to the Voice & Video tab at the left pane, and then toggle the switch of Noise Suppression to On from the right side.
How to reduce background noise on mic Windows 10? All applicable methods have been illustrated to you. Now it's your turn to have a try.