Environments where loud noise is present, make communicating with your team a lot harder. Hearing protection communication headsets can help keep your team connected. There are a lot of different radio headsets for high noise available. Some are your standard noise-canceling headphones while others have advanced technologies that incorporate radio communication and situational awareness to keep you connected.
Today, we'll discuss 5 of our top radio communication headsets for loud noise.
Sensear SM1R
Waveband Dual Muff Headset
Sonetics APEX Team Wireless Headset
Team Communications System Headset
3M Peltor Litecom Pro III
Sensear SM1R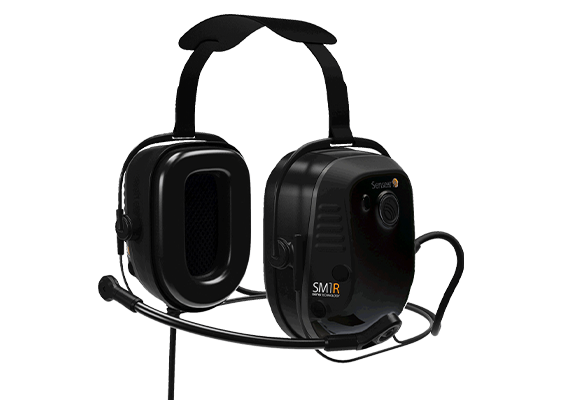 First on our list is the Sensear SM1R is a two-way radio communication headset powered completely by your two-way radio. With no battery required, this headset is noticeably lighter and more comfortable to wear for long periods.
To limit the sound exposure to your ear, the Sensear SM1R has a noise reduction rating (NRR) of 27 dB. This NRR is most common in these types of headsets. This headset enhances speech and decreasing background noise to a safe level to protect your hearing.
Sensear also understands the importance of being able to hear your surroundings. That's why this headset incorporates situational awareness, so you remain aware of noises and hazards around you. The boom microphone is noise canceling for clear communication with your team.
This headset is available in a headband, neckband, and helmet style.
Lastly, it's important to note that this headset is IP54 rated. This means it's pretty lasting in certain weather or environments and is durable enough for any job.
Waveband Dual Muff Headset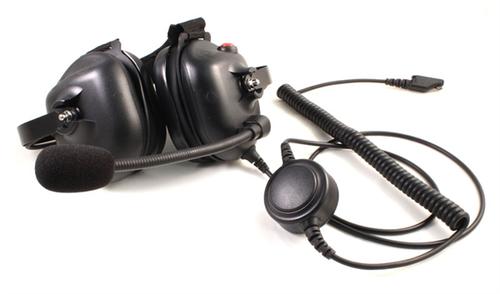 Next to make the list is the Waveband dual muff headset is a noise-canceling headset designed for use with any major two-way radio. This headset is popular among firefighters, construction teams, manufacturing plants, racing teams, and anyone needing communication in high noise areas.
The headset is equipped with 24 dB noise-canceling technology that reduces harmful sound levels to a normal level. Even though situational awareness is not present in this headset, you can still hear communication through your radio.
The foam dual muff headset is comfortable to wear all day and the behind-the-head style doesn't interfere with helmets.
Lastly, this headset has a noise-canceling boom microphone for clear audio in loud environments and an in-line PTT and earmuff PTT for quick radio communication.
Sonetics APEX Team Wireless Headset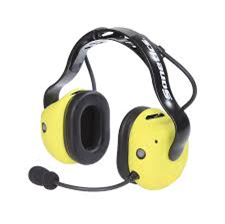 Sonetics series 3 wireless headset is a unique communications headset designed with no push-to-talk button. This allows you to talk like you're talking face-to-face, and with no delays. Having no PTT button lets you operate hands-free so you can keep your hands on your work.
Like the Sensear SMR1, this headset has situational awareness. The Listen-Through Technology adds environmental sound, so you know what's going on around you while still protecting your hearing.
The Sonetics APEX Team headset has 24 dB NRR, protecting your hearing when in loud environments.
This headset battery life is good for up to 24 hours on just a 4-hour charge. Along with the wall adapter and cigarette lighter adapter, the headset comes with a charging case to protect your headset when not wearing.
Lastly, the Sonetics headset is built for any environment. It's dustproof and watertight for use in rain, snow, and dusty conditions.
Team Communications System Headset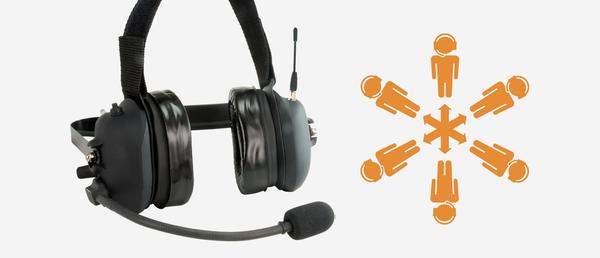 This Team Communications System Headset featured on First Source Wireless is a multi-person headset that is simple to use. This headset comes with plug-and-play simplicity so all you need to do is take it out of the box, power it on, and you're connected.
You can connect up to 8 users to keep them communicating with an unlimited number of listen-only headsets. This way everyone is connected and able to hear important conversations. Along with this, the headset is also Full Duplex, meaning multiple people can talk at one time.
You can also pair this headset with your two-way radio letting you simultaneously communicate over the radio intercom.
No matter where you are on your site, this headset has 1500 feet line-of-sight that will keep everyone on your team connected.
This headset has a 23dB noise reduction rating, one of the lowest on our list but it will still give you applicable hearing protection in loud environments.
Lastly, you can expect to get about 15-hour battery life on a single charge. The headset will turn off automatically after 15 minutes of inactivity saving your battery life.
3M Peltor Litecom PRO III
The 3M Peltor Litecom Pro III headsetis a hearing protector with a built-in analog and digital programmable two-way radio, Bluetooth, and an external jack. The built-in two-way radio allows you to be hands-free, good for wireless headset communication, and has 70 unique channels.
This headset noise attenuating ear cups have an NRR of 28 dB, one of the highest on our list. Environmental microphones and a noise-canceling waterproof speech microphone provide hearing protection and clear communication in loud environments.
The Litecom PRO III has a voice-operated transmission (VOX) that lets you talk hands-free, keeping you focused on your work.
You can expect the Litecom PRO III to get around 11 hours of battery life in a single charge with its rechargeable li-ion battery.
Lastly, Bluetooth is a great feature that lets you connect multiple external devices like your cell phone to pick up calls and more.
Communication in loud environments is important to the success of any team. Any of these 5 headsets will help you stay connected while protecting your hearing. You'll want to look for headsets with a good noise reduction rating and pairs with a two-way radio, whether that's built-in or a wired connection.
Waveband Communications is a manufacture of two-way radio accessories. Our accessories are compatible with major radio models including Motorola, Kenwood, BK Technologies, ICOM, and Harris. Find radio accessories that stand with you. Every time. Shop now.