Being a trucker means spending long hours on the road, and having the right devices to make phone calls is essential. But as a trucker, there's more to the profession than just "keeping it between the lines." That's where Bluetooth headsets come in—they're a game-changer for truck drivers.
The Importance of Bluetooth Headsets as a Trucker
In most states, it's against the law to use your phone while driving. Bluetooth headsets allow truck drivers to make calls without touching their phones, ensuring they stay safe and legal. These headsets also enhance call quality with features like noise canceling and background noise shielding, making it easier to focus on talking and driving simultaneously.
Truck drivers need Bluetooth headsets that provide all-day comfort. They should be lightweight and durable enough to withstand the demands of the profession. And it's not just about phone calls—Bluetooth headsets can also connect wirelessly to Android or Apple devices, giving drivers access to GPS, music, audiobooks, and weather forecasts with just their voice.
Best Overall: BlueParrott B550-XT Bluetooth Headset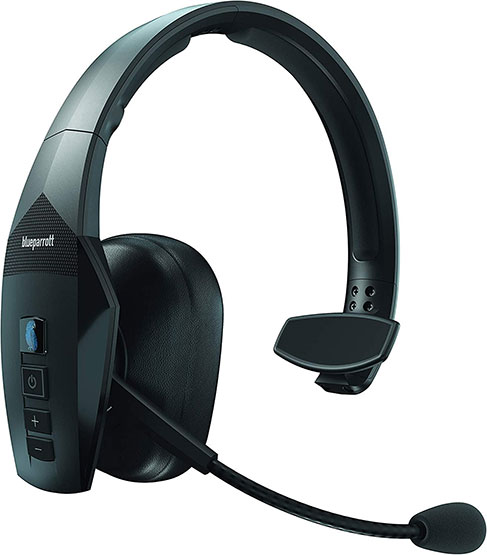 The BlueParrott B550-XT is our top pick for the best overall Bluetooth headset for truck drivers. With a reputation for excellence in headset manufacturing, BlueParrott has perfected the art of combining form, function, and durability. The B550-XT delivers a robust sound profile with balanced highs, mids, and lows, ensuring a comfortable listening experience even during long stretches on the road.
Noise canceling is one of BlueParrott's strengths. Based on verified user reviews and our own testing, the B550-XT provides close to its advertised 96% noise reduction, effectively isolating your voice from background noise. The headset is also compatible with voice assistants like Siri and Amazon Alexa, allowing for a truly hands-free experience. Plus, it offers customizable buttons for quick access to your most-used features.
Battery life is exceptional, with an average of 22 hours of usage on a single charge. This means you won't have to worry about running out of power during long drives. While the B550-XT is a bit on the expensive side, its top-notch noise cancellation, long battery life, and overall quality make it the best choice for truckers.
Best Runner-Up: BlueParrott B450-XT Bluetooth Headset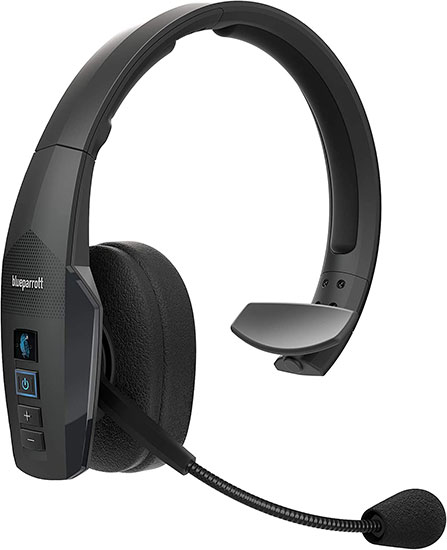 Our runner-up choice also comes from BlueParrott—the B450-XT. With its sleek design and powerful noise canceling capabilities, the B450-XT is a great alternative to the B550-XT. It offers many of the same features, including excellent noise cancellation, extensive wireless range, and long battery life.
The B450-XT is surprisingly lightweight and comfortable, making it ideal for truck drivers who wear headsets for extended periods. The padded headband wicks moisture away, ensuring a comfortable fit even during hot weather. The main difference between the B450-XT and the B550-XT is the style of the ear cups—the B550-XT has an over-ear design, while the B450-XT is an on-ear style. Both provide great noise cancellation, but the over-ear design of the B550-XT offers a slight edge in terms of comfort and noise isolation.
Best Budget: LEVN Bluetooth Truck Driver Headset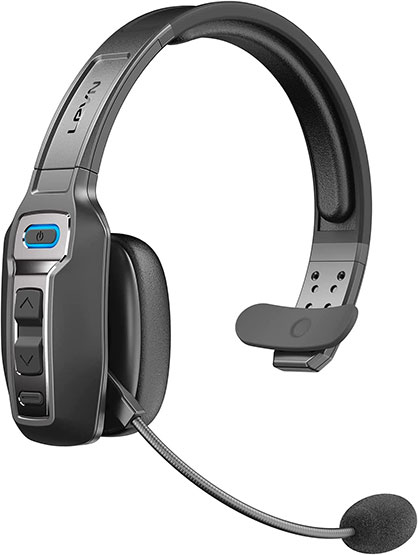 If you're looking for a budget-friendly Bluetooth headset that doesn't compromise on quality, the LEVN Bluetooth Headset is our top choice. While many budget headsets skimp on components and performance, LEVN took a different approach. They focused on delivering exceptional noise cancellation, long battery life, and sound quality that rivals more expensive models.
LEVN's adaptive environmental noise cancellation suppresses 92% of distracting noises, ensuring clear and crisp communication. With an impressive battery life of 60 hours for work/music and 35 hours of talk time, you won't have to worry about running out of power during long journeys. The headset also boasts Bluetooth 5.2 connectivity and can be paired with two devices simultaneously, making it highly versatile.
Best Alternative: Shokz OpenComm Bone Conduction Bluetooth Headset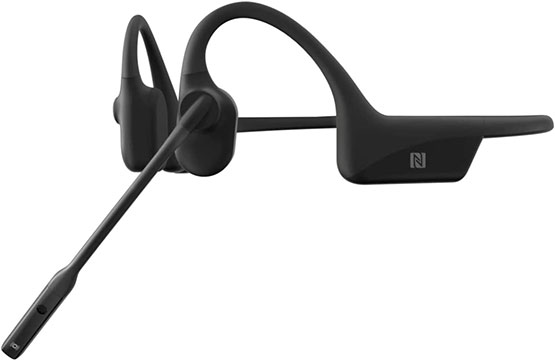 For those who prefer to keep their ears free and be more aware of their surroundings, the Shokz OpenComm Bone Conduction Headset is the best alternative. This unique headset uses bone conduction technology, transmitting sound vibrations through the bones in your head instead of through the air. It offers a different but captivating audio experience while allowing you to stay connected and aware of your surroundings.
The Shokz OpenComm features noise-canceling technology for its microphone, ensuring clear and crisp audio on the other end of your calls. While the battery life is relatively shorter compared to other options, offering 16 hours of talk time and up to 8 hours of listening time, the headset comes with a 5-minute quick charge feature that provides two extra hours of battery life when you're in a hurry.
Best Portability: Conambo Bluetooth Headset for Truck Driving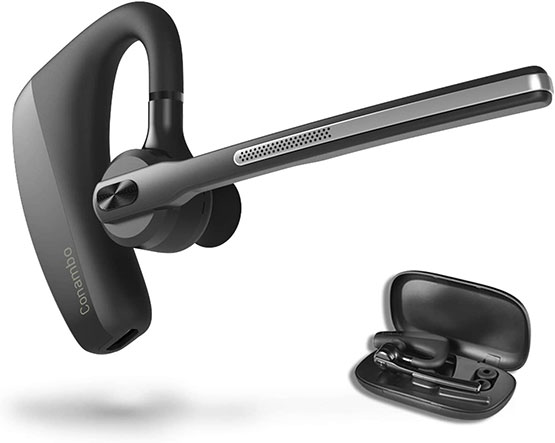 For truck drivers who prioritize portability, the Conambo Bluetooth Headset is the best choice. This tiny in-ear headset packs powerful features into a compact design. It's perfect for those who prefer not to wear headsets all the time but still want a reliable option when needed.
Despite its small size, the Conambo Bluetooth Headset doesn't compromise on quality. It features a high-quality noise-canceling microphone that delivers clear and crisp audio on calls. The headset comes with a handy carrying case that doubles as a charger, ensuring that it's always ready for use. It's an affordable and portable option that doesn't sacrifice performance.
Remember, investing in a high-quality Bluetooth headset can greatly enhance your driving experience as a trucker. Consider your specific needs and choose a headset that provides comfort, durability, and excellent call quality. With the right headset, you can stay connected, focused, and safe on the road.
Check out the NokiaMA Headset Design website for more information on Bluetooth headsets designed for truckers.