Nothing's better than being able to talk with your riding partner on the open road. It's an incredible way to share the views and the moment with the person you've brought along on the journey.
Besides its convenience, there are a lot of safety features that are essential when it comes to Bluetooth intercom headsets. Your focus needs to be on the road and not trying to mess with a finicky wireless intercom that goes in and out.
It's also important to be able to call out potential hazards to others in your group. Bluetooth intercom headsets help you make coordination and safety a priority. No more hand signals or hard to hear conversations at the stop light.
To help with your search, we've sifted through several motorcycle Bluetooth intercom headsets for your helmet and compiled them here.
Every rider's needs are different so we're featuring the best in a number of aspects so that you can find the perfect match. If you'd like some tips on how to select the right headset, stick around at the end of this article. Let's get into what we've found.
Best Overall: Cardo PACKTALK Edge Motorcycle Bluetooth Headset Intercom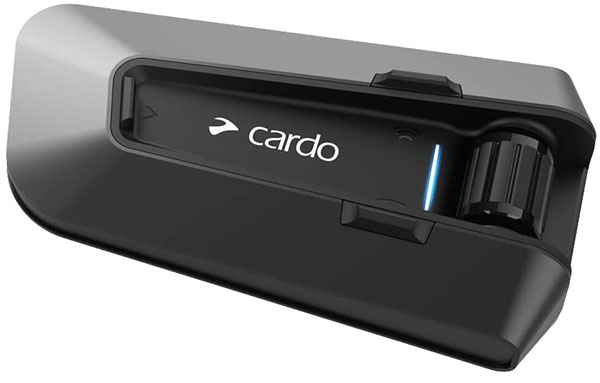 Special Features:
Magnetic attachment
Waterproof
Voice operation features
1 mile range for up to 15 riders
Phone connectivity
The Cardo PACKTALK Edge surprised us the moment it came out of the box. It's one of the best looking bluetooth headsets we've come across. The sporty edges and matte finish give it a modern, sporty feel. The strong, snappy feel of the magnetic mount gave us confidence that the device was going to stay in place with zero problems. It's also compatible with the most number of helmets of any of the other units reviewed.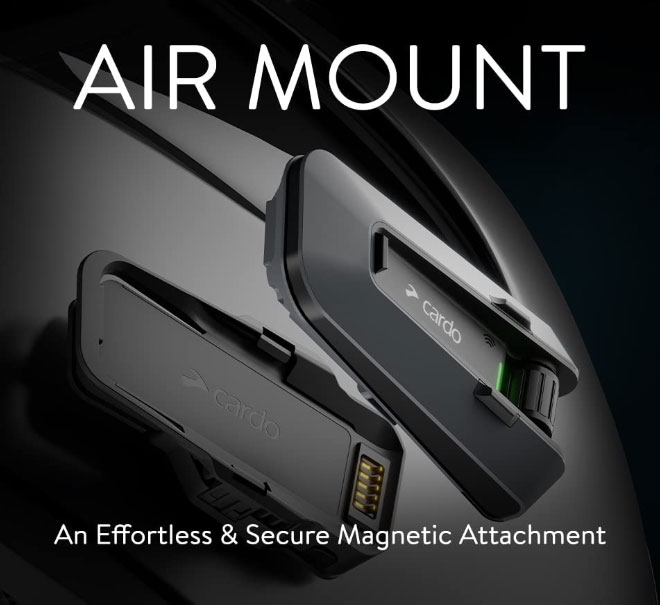 We've had our share of bent nails or scratched devices trying to pry other headsets off of their clamp or snap mounts. This unit's air mount technology made it a breeze to take on and off when we needed to which in turn made charging it convenient.
Let's talk about range and how many people the Edge can accommodate. Coming in with a range of 1 mile, this Bluetooth headset is head and shoulders above a lot of its competitors. Although other manufacturers will claim the same distance, it's usually not the case in real world scenarios. Based on dozens of user reviews, the PACKTALK Edge seems to deliver on that one mile range consistently. This unit can also mesh with up to 15 other headsets which is fantastic.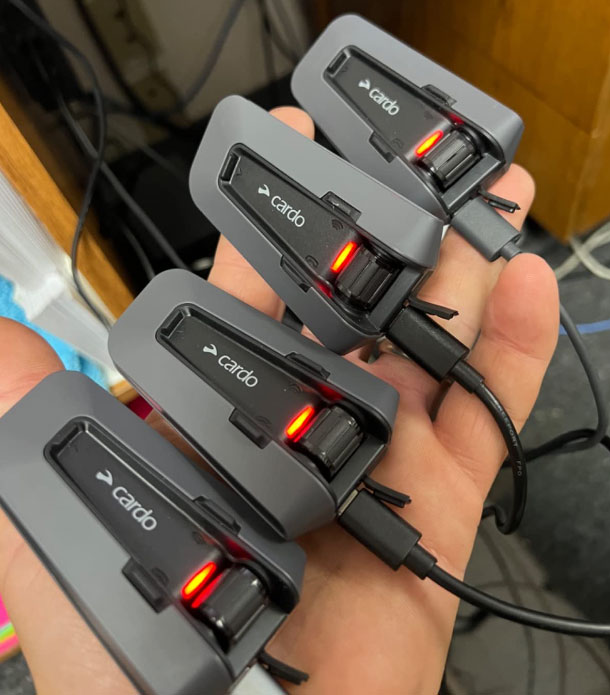 This brings us to the quality of the audio and how strong its connectivity is. This guy has incredible 40mm JBL speakers built into it which were more than loud enough and offered extremely clear communication whether between riders or from a phone. This has a lot to do with their Dynamic Mesh communication technology which does a great job eliminating noise and interference.
We can't say enough good things about the battery life on this Bluetooth headset. Users have reported their headsets lasting upwards of 14 hours of riding between charges which with the amount of features packed into it, is a massive achievement. A neat feature we liked was the fast charging ability. 20 minutes of charging from empty will give you 2 hours of battery life.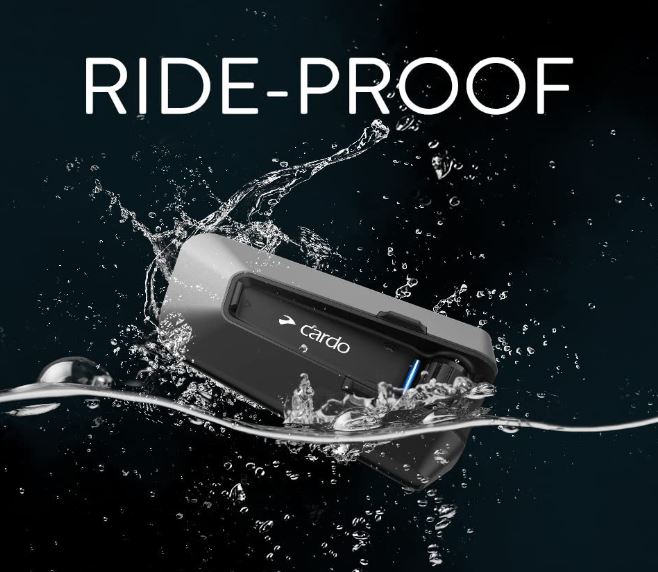 It's smartphone compatible and does all its software updates using a mobile app which is great for those of us that constantly lose the cables that come with our other headsets. For all the reasons listed and the dozens more that we didn't, the Cardo PACKTALK Edge motorcycle headset tops our list as the best currently on the market.
What We Liked:
Great, consistent 1 mile range at 1 mile for up to 15 riders.
Extremely long battery life.
Strong, easy to use magnetic mount.
Compatible with nearly every motorcycle helmet.
Wireless updates using the mobile app.
Voice activated control works just like a "Siri" or "Alexa."
Incredible sound quality and noise canceling features.
Modern form factor, low profile design.
What We Didn't Like:
The price makes this one of the most expensive on the market.
Can be hard to get a hold of customer support at times.
Light on instructions on how to use it. A visit to YouTube may be needed.
Best Runner-Up: Cardo PACKTALK Bold Motorcycle Bluetooth Headset Intercom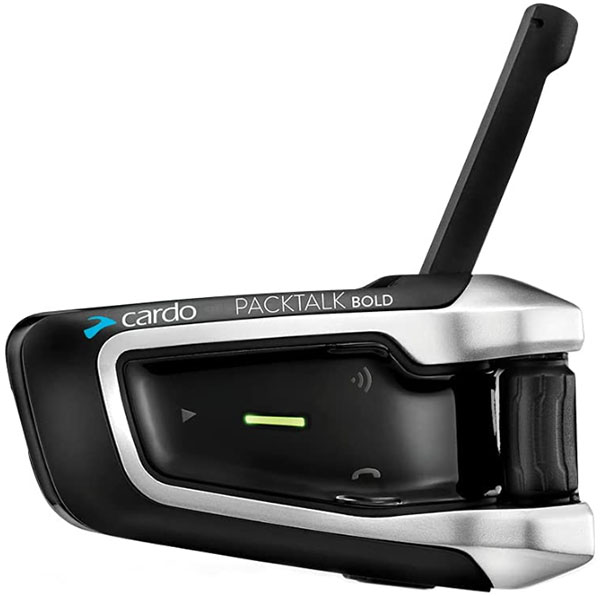 Special Features:
Waterproof.
Audio sharing.
Up to 15 riders.
13 hours of battery life.
1 mile range.
3 year warranty.
The company Cardo has been in the motorcycle headset market for a long time. As a result, they've done a great job perfecting their entire line of headsets in a way that delivers quality at every level. Similar to our best overall pick, our runner up is part of the same PACKTALK line.
The Cardo PACKTALK Bold utilizes a powerful magnetic mount that works with nearly every helmet on the road. The team was impressed by its one mile range that stayed consistent in most riding environments. We will note that it does not do as good of a job as the Edge model but the difference is not significant.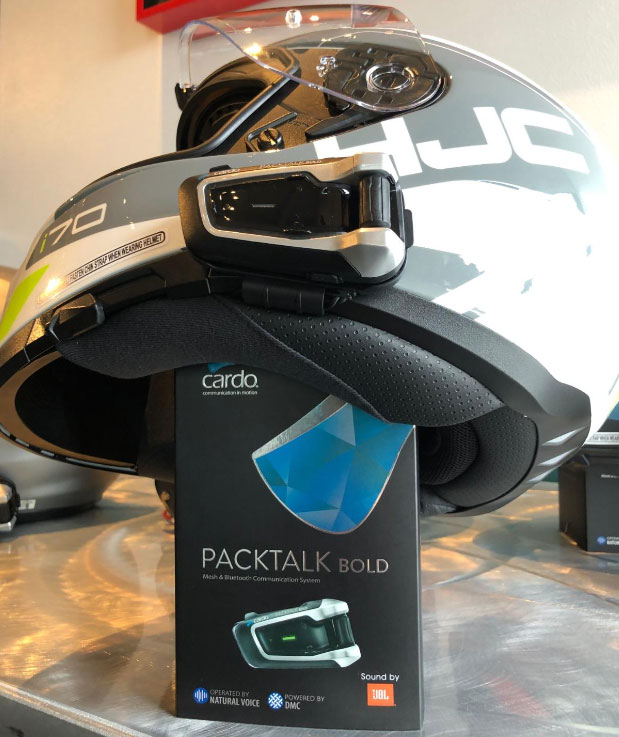 The PACKTALK Bold can accommodate up to 15 riders and we found the process to get everyone looped in very simple. It uses the same Dynamic Mesh technology as more expensive models which produced great audio clarity and reduction in interference.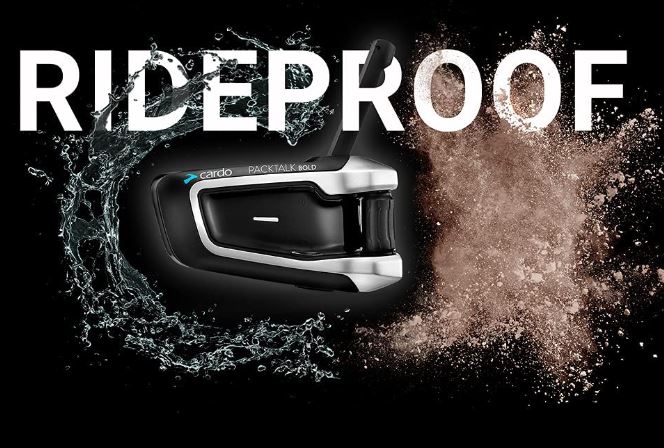 Another great feature is the natural voice activated controls. Just like you would on an Apple or Alexa device, you can summon your headset by simply saying "Hey Cardo." In testing, we found it was extremely responsive to being called on. Keep in mind that you'll need to spend some time memorizing the very specific commands. You need to get it exactly right or else the headset won't do what you want it to.
Something we were impressed with was the active noise canceling. Especially when dealing with white noise, the Bold performed better than more expensive headsets we've tested. This is noise canceling specifically designed for what riders encounter on the open road. As a result, it's not going to behave the same way as say a pair of Apple AirPods or Beats by Dre.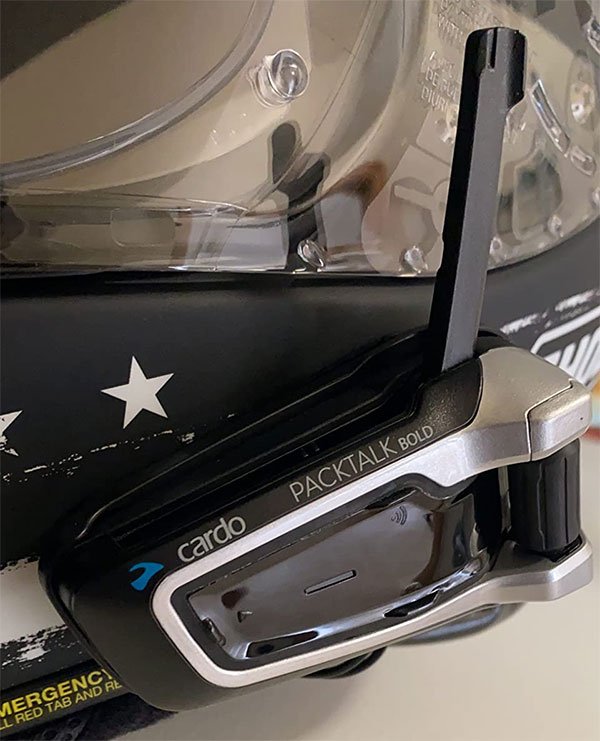 Overall, we were extremely surprised at just how robust this package was coming from Cardo. It's moderate pricing may put the PACKTALK Bold at the top of the list for riders looking for a reasonable premium Bluetooth headset option.
What We Liked:
Great range.
13 hour battery life.
Works on most helmets.
Strong connectivity.
Works with smartphones.
Room for up to 15 riders.
What We Didn't Like:
Premium pricing.
Form factor is bulkier than others.
Connectivity range decreased dramatically in urban areas.
Best Budget: LEXIN B4FM Bluetooth Helmet Headset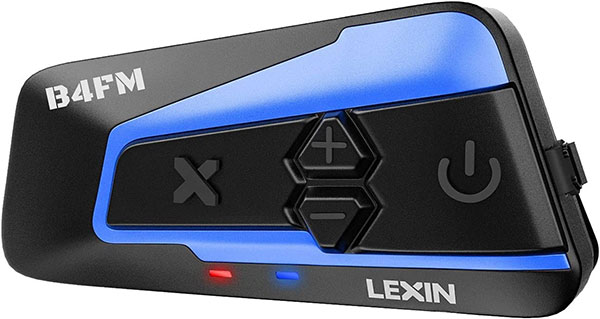 Key Features:
Smartphone compatible.
500m range.
2 microphone options.
Accommodates up to 10 riders.
Waterproof.
15 hours of talk time.
Listen, with gas and the price of goods going up, finding a headset that is a solid buy and also protects the integrity of your bank account is a great benefit. The LEXIN B4FM Bluetooth headset tops our list because we were impressed at the amount of features that were included at this price point.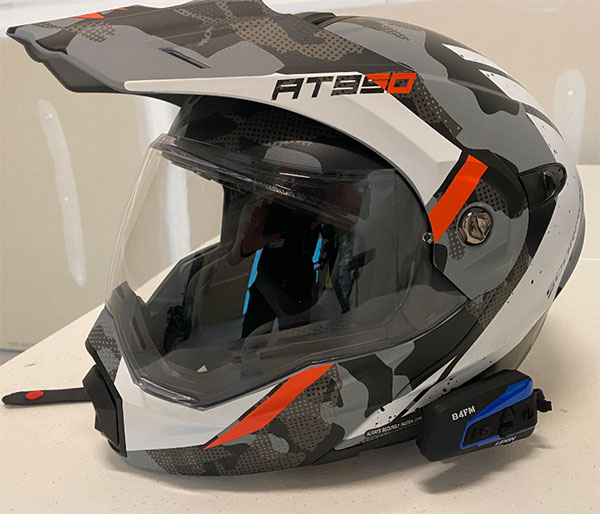 Normally, budget headsets will cut corners on build quality (lots more plastic, cheaper internal components) or pull back on convenient features. That isn't the case with the LEXIN B4FM helmet headset. It's got a solid feel and great form factor. We even like the visual appearance better than headsets three times the price.
We love the smartphone connection which allows you to call on your Apple or Google assistance with minimal button tapping. When it comes to battery life, many riders find it lives up to its claim of 15 hours of talk time.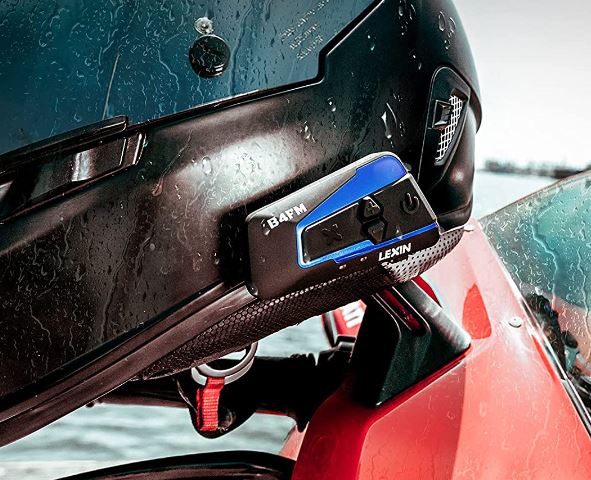 One area that this sacrifices is in the number of riders it can accommodate which is ten. If you tend to ride pillion or in small groups, this may not be a big deal. The noise canceling is solid on this unit as well and although the speakers are on the smaller side, riders report not feeling like they were too soft. Overall, the LEXIN B4FM is an incredible budget option.
What We Liked:
Smartphone compatible.
Google and Siri compatible.
Great price point.
Low profile design.
Multiple mic options.
What We Didn't Like:
The Nintendo remote aesthetics may not be for everybody.
Range is limited to 500m with more than two riders.
Can be hard to make a warranty claim with the manufacturer.
Best Alternative: Sena SMH10-11 Motorcycle Bluetooth Headset Intercom
Key Features:
900 meter range.
Uses universal intercom protocol compatible with all brands of headsets.
12 hours of talk time.
The Sena SMH10-11 makes our list as the best alternative headset. The reason we love it is because it serves a segment of riders that just want rock solid dependability and a deep feature set without all the drama. This headset was designed to provide great user feedback from answering calls, switching to different audio sources and adjusting volume.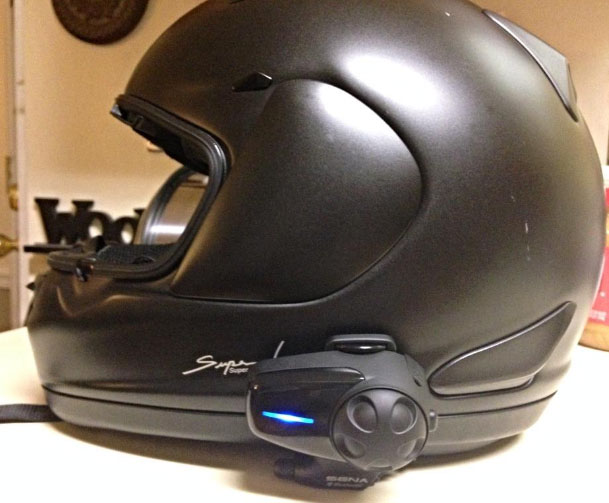 We feel this headset does an incredible job at giving riders a more hands-on experience while helping them keep their hands and eyes focused on the road. The manual jog dial allows riders to do things like adjust the volume and cycle through device functions.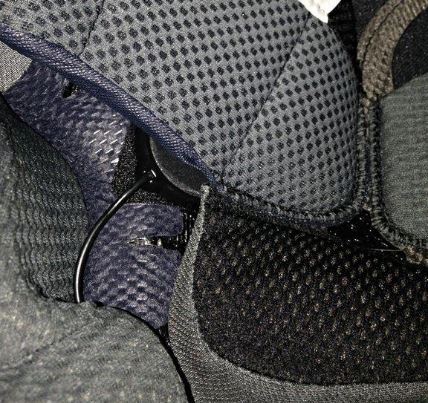 Besides its ease of use, the Sena SMH10-11 provides a wide range of mic options allowing it to match a rider's specific preferences. It accommodates up to four riders which isn't a lot but what you give up in the number of riders you get back with its impressive 900m range.
Pros:
Competitively priced for a premium product.
Jog dial for users that like physical feedback.
Excellent noise canceling.
900 meter range.
Long battery life and short charge time.
Cons:
Form factor is a little dated.
Not voice activated.
How to Choose the Best Bluetooth Intercom Headset For Your Motorcycle
To begin your search, the key is to take note of what features are important to you and which ones are nice but not essential. This will be your guiding anchor in the midst of the ocean of possibilities. Let's review some factors you should consider.
Price
More expensive does not mean better. It's why our best overall headset is not in fact the most expensive model on the market. There is no reason you can't get an excellent headset for a moderate price.
Durability
We've all been fooled by great product pictures. Expert product photos can hide poor build quality. When you get your headset, take note of the build quality. Avoid anything that feels like flimsy, cheap plastic.
Connectivity and Compatibility
You'll want to be aware of how many headsets your unit can pair with. Keep in mind that some headsets are only compatible with other devices that are the same brand. Make sure your unit will play nice with the other members of your regular riding crew.
Ease of Use
Despite what people will tell you, it is possible to make a feature-rich device intuitive to use as well. User reviews are going to be your best friend in this area. Take note of words they use like "easy to use", "simple" or on the other hand, "complicated", "finicky" and "nightmare".
Noise Canceling
While your helmet will offer a decent amount of noise reduction, some want to take things even further in regards to a quieter ride. If this is important to you, be sure to test it on the open road before tossing the box.
Final Thoughts
We know that purchasing a motorcycle Bluetooth intercom headset is a big investment. You want to make sure it will last. Of all the units we've tested, the ones presented here top our list because we feel confident they have future proof features in a rock solid package that will stand up to years of use.